Italian Men's Shoes
I was looking for some shoes for my husband. He hates to shop. What is it about men and shopping? But, I digress. I have to say that, although the selection is not as plentiful for men, the Italian-made shoes in this article are just exquisite. They're fantastic shoes for work, play or whatever life throws at you. Italian designers do know their shoes, their fabric, their feel and their look. But, don't take my word for it. Read on, and let the shoes speak for themselves.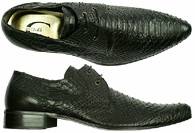 Roberto Cavalli's pointed-toe python shoes are awesome. These shoes are elegant, classy and classic. They can be worn out on a date or to a major business function.
These shoes scream successful and fashionable. They're a comfortable loafer with laced enclosures and leather sole. I'm not sure if they're available in any other color but black, but honestly who cares? They're perfect for a strong confident man who knows he looks good and doesn't mind flaunting it!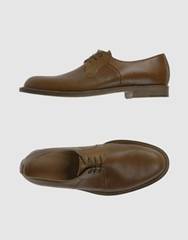 From Marni, we have these fantastic calf-leather, laced-up shoes. They're soft as butter and available in both mud, the dark-brown color shown, and a dark green. They have an elegant stitch detailing. They're durable and can be worn with a variety of looks from casual khakis and corduroys to dressier suits and business apparel. This is a shoe that will travel well so you should make some extra room for it in your bag next time you go away whether it's for work, or for play!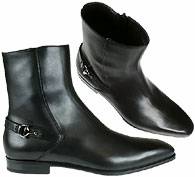 Gucci brings us a great alternative to biker boots. These sexy ankle boots have a zip enclosure on the side and metal details that would like great with a motorcycle or a basic leather jacket. The leather sole and round toe guarantee long-lasting comfort proving that you don't have to sacrifice anything to look good. They're perfect for a rugged, nonconformist who has a bit of a romantic rogue somewhere deep in his soul.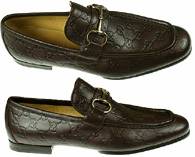 Also from Gucci we have these fantastic horse bit loafers. The pattern is embedded with the classic Gucci-design. The shoes have leather soles and are constructed of the same material on the outside. They also have an eye-catching leather buckle on the front as well as a cap toe so you can wear these all day no matter where you've got to go.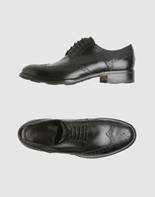 These are not just any pair of black dress shoes. Aren't they awesome!?! These Francesco Benigno's are leather. They have fantastic stitch and perforated detailing that creates an eye-catching design. The sole is a mixture of leather and rubber. They're laced-up and will work great for special occasions, or for a special man.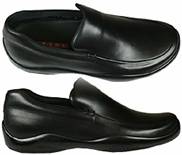 I think that shoes should be comfortable. Fashion should also provide function, right? It should be something that you enjoy wearing – and look good in. These Prada sport loafers combine fashion and function perfectly. They have a fantastic stitch detail on the front and the sides. The base is not severe; it's very cushioned and comfortable. The sole is made of leather as are the base of the shoes. They feel like a sneaker; but, wear like a loafer. You can wear them with all sorts of looks from the most casual to the most elegant!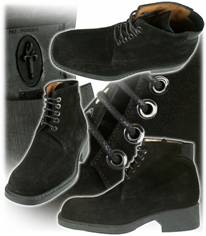 These Cesare Paciotti boots almost look feminine. My husband took one look at them at first, and laughed. Then, he tried them on. They're so comfortable. These suede ankle boots are perfect for winter (Might I suggest that you get them protected from the elements so that snow, sleet or rain doesn't ruin them?). They work great with jeans and heavy, winter wool pants. They are great for walking sure-footed on ice. The rubber sole ensures that! I do declare that these Paciotti boots are a must-have for winter. They belong in any fashionable man's wardrobe.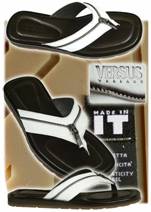 Finally, we go from winter to summer with these Versace flip-flops. They have a luxurious look and feel. Great for the beach or even a yacht! I especially like the zipper detail on the front. They come in black as well as the white pictured here just in case you don't want to wear white, before, or after, Labor Day!
As you can see from this list, Italian designers definitely know men's footwear. The shoes featured in this article are elegant, sexy, comfortable and fashionable. They're wonderful pieces that you can add to just about any man's collection for winter, spring, summer or fall.
By Dominica DiPiero