Italian Business Suits for Men
Be Sure to see Men Suits Part I
People say that ladies love a man in uniform. I say that's not true, at least for me. I love men in business suits. Business suits are powerful. They showcase the male form in its best light. They're strong. They're driven. They're awe-inspiring. In my opinion, no one makes suits better than the Italian designers. No one. In this article, we'll look at some amazing men's suits brought to you by some of the best Italian designers the world has ever known.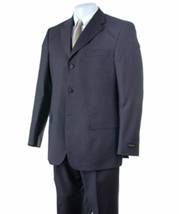 This 3-button wool suit comes from Valentino. The jacket features two front flap pockets, a front breast pocket, two interior breast pockets, one of which is secured by a button and interior pockets for a cell phone and a pen/pencil. The pants are fully-lined inside. They have a zip fly with a hook-and-eye button enclosure. There's a single pleat, two front pockets and two button-secured back pockets. It is 100% wool!
The suit in the picture is charcoal-gray, which is a nice alternative to either basic black or navy. The man who wears this suit shows that he's able to make and close just about any business deal.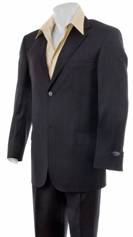 From Zanetti Men we have this sexy, black pinstripe two-button suit. This piece can be worn dressed up with a tie and cuff links or dressed down with a shirt that's open at the collar and a pair of loafers. It's versatile. A man can wear this for work or play.
The jacket has a two-button front entry. If you're a bit larger through the middle, just button the top button and let the bottom hang loose. This creates a slimming effect. Also on the jacket are three interior pockets, a slit breast pocket and two flap front pockets on the base.
The trousers feature a zip fly with two button/hook-and-bar closure. There are two besom back pockets and a pleated front so the fit is powerful, not snug.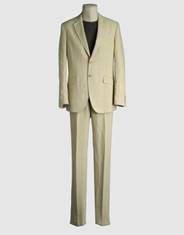 Dolce & Gabbana bring us this single-breasted suit that's 64% linen in the color of sand. This is great for a laid-back luncheon with clients or to wheel and deal during the hazy, lazy days of summer. You can dress it up with a colorful tie and shirt or dress it down, like in this image, with a t-shirt.
The jacket has 2 buttons, a centered rear vent and two internal pockets to hold your wallet, cell phone or what have you. It also has two pockets on the exterior with flapped covers. The pants have a button fly, a crease down the front middle. This piece moves brilliantly and is very breathable. The fabric is comfortable and functional. This is a leisure suit that can be work to work in grand style!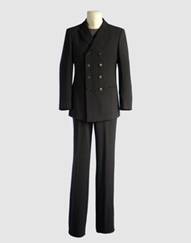 Look at this suit! It's not only double-breasted. It has a double-enclosure which is highlighted brilliantly with two-rows of buttons to give a militaristic look that is all man. This Armani suit is made of 100% Virgin Wool. The jacket has interior and exterior pockets, a lined interior and dual rear slits for movement.
The trousers are also lined in the interior which makes this piece a perfect cold-weather offering. There are four pockets on the pants themselves, a crease down the middle. The piece comes with unfinished hems to make tailoring easier. And, you'll want to tailor this piece, of course. In fact, a man should always have his suits tailored. A suit should fit the body perfectly.
This last suit comes to use from Gianfranco Ferre. The jacket has three buttons, three pockets on the outside, two below the chest, on the sides near the hips and one on the left breast and four interior pockets so you can carry your gizmos and gadgets with you. The pants have belt loops, a zip fly closure, crease down the middle and a lined interior.
The suit is made of a garbardine/wool blend. It's a great piece to have in any professional man's wardrobe as all of these suits are.
By Domenica DiPiero
Italian Men's Suits Part I
Italian Men's Suits Part II
Italian Men's Suits Part III