The Latest and Greatest in Italian Suits
Italian Men's Suits < Part II
Business suits today are a form of corporate armor. But modern day men's suits are sometimes seen as too stuffy, especially after the dotcom boom. A somewhat relaxed work fashion is now acceptable, but this trend has not been able to displace the suit from its place in a man's work wardrobe.
Why wear a suit?
A successful investment-banker in a sharp Italian suit, a lawyer about town in an elegant two-piece affair, a politician on television in a formal suit-and-tie: all these members of the upper crust depend on their attire to gain them an instant acceptance in public life. Donning an impeccably tailored suit is already a statement of affluence and impeccable taste. It says a lot about the wearer even before a single word is spoken. Check the best Italian suit brands!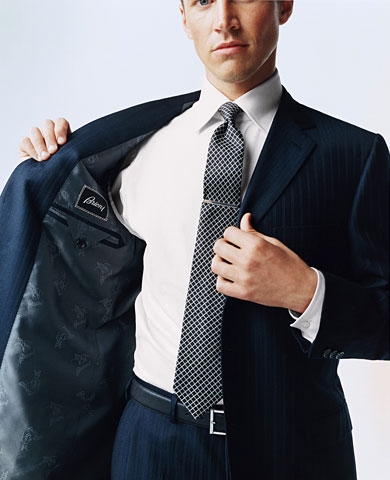 Not just the smart set, but also those who lead prosaic lives need to wear a suit at some point in their career. For instance, those candidates who would not be required to wear a suit on their jobs are advised to wear one for the interview. An accused on trial wears a suit. A suit is still seen as a way to gain respectability: a man wearing a suit means business.
The Men's Suit in Italy
The better-cut the suit, the better business the wearer is likely to be in. And if the suit is cut well, chances are that it is an Italian suit. Italian suits have today come to represent some of the best quality work in men's tailoring, and bring prestige to the wearer. But they were not always the most renowned. The history of the Italian suit goes back a long time, and its evolution makes for an interesting story.
The suit as a form of business clothing evolved in Europe, and reached its acme in Britain at the famous Savile Row, frequented by all true gentlemen of impeccable pedigree. But slowly, the skills of suit-making began to filter to other parts of Europe, but notably, to Italy. Some of the best suits in the world of fashion began to be produced in this country.
Castangia, which opened in 1850 before the unification of Italy, was one of the first renowned houses. It triumphantly entered the arena of personal tailoring for men and continues to be an exclusive brand today. Another name of note was the Somma Spa which first started manufacturing exquisite suiting fabrics in 1865 and then moved on to make suits under the name of Vestimenta almost a century later. During this time, the privileged Italian clientele for custom tailored suits were still flocking to Savile Row. This was because despite some very good craftsmanship, Italian tailoring continued to have a sleazy image, usually associated with shiny fabrics and tight fits, mostly worn by dons and gigolos.
But things began to change once Ermenegildo Zegna opened a textile school in Biella in 1910, and two decades later opened the highly successful textile factory near the district of Trivero. This was also the time Domenico Caraceni opened his sartorias that are now considered some of the most celebrated abodes of the Italian suit, though the name Caraceni is now carried by various agencies that specialize in different categories of suits.
By the 1930's Italian clothiers began to be respected, and this only increased with the opening of the house of Canali. Canali stood for cutting precision, a completely canvas-supported construction, hand-rolled collars and sleeves set by hand, which put this house at the forefront of Italian men's quality suit makers. Other names like Vincenzo Attolini, who invented the "rag" jacket, the boat pocket, and the closed sleeve, as well as the discreet couturier Corneliani emerged in this decade. The Italian suit was here not only to stay, but to rule.
Events took an even better turn for the Italian suit despite the hard years of war when Zegna entered the suit-making market. And by the time the war was over, the master tailor Nazareno Fonticoli who was trained in Savile Row got together with Gaetano Savini to launch Atelier Brioni. Brioni revolutionized the world of suits by putting men's fashion on the ramps in 1952, and subsequently conquering New York with its impeccable tailoring and high quality standards.
Suit tailors in Italy flourished, much more than those in France or Britain, throwing up more suit-making houses like Kiton in 1956, which has since made history in the ready-made suit market. Then came Armani in 1975 with his lower buttoned, unstructured jackets that still looked elegant. These took the world of men's work wear by storm. Italian suits today come with a long heritage of illustrious creators, and the term, Made in Italy on a suit is mostly seen as a guarantee for its fit and quality.
How is an Italian men's suit different?
An Italian men's suit, handmade or otherwise, is a secretive effort. Even in cases where a computer teams up with a tailor to create a suit, there is that added finesse that only comes from knowledge gained through decades of tradition. Most of the Italian men's tailoring houses are family run, and that sometimes makes a lot of difference. Each Italian suit maker has its own secrets to quality which it guards jealously, much like an Italian nonna with her treasured recipes.
All suit makers, irrespective of the part of the world they are from, need to respect quality. But for an Italian suit maker, this sartorial respect borders on reverence. An Italian men's suit tailor seeks to hide all the flaws in a wearer's physique, and to make him look slim, elegant, tall, even if god did not exactly make him that way. The armholes are higher, the shape is more streamlined, and the garment carefully proportioned to improve the wearer's appearance. From the placement of the waist to the width of the lapels and the cut of the collar, every aspect of the Italian men's suit is tailored to flatter and conceal at the same time.
Italian Men's Suits Part I
Italian Men's Suits Part II
Italian Men's Suits Part III
Damyanti Ghosh