Italian lingerie has been famous for generations for its fine quality of manufacturing and materials. Soft, luxurious materials, pretty colors, handmade embroidery and fine Italian lace – all of these can be found at Italian lingerie stores. Four companies have especially impressive collections at the moment – Guia la Bruna, Flora Lastriaolli, Cosabella and Intimissimi.
Guia la Bruna
A young designer, Guia comes from a lingerie manufacturing background. Her grandfather started the business in Turin in 1935 and Guia liked to wander around the many floors and corridors of the factory when she grew up. She inherited her family's artistic talent and studied in Paris at the Ecole Nationale Superieure des Arts Decoratifs – which is perhaps why her lingerie designs show a strong French influence.
Guia, who has been featured on the TV series, Sex and the City, wanted to create a retro look that was modern. In an interview with Danae Shell, the editor of the Italian lingerie brand website, Knickersblog, she said that she likes 'strasses, vintage laces and velvet ribbons'. (Strasses are items of jewelry made of glass that looks like diamonds, for example, rhinestones and the beautiful Swarovski crystals.) Her favorite material to work with is soft, silk muslin.
The designer's latest collection, which can be seen on her website, Guialabruna.it, features soft, shimmering materials; Victorian-style chemises; delicate floral prints; and feminine ribbon decorations.
Danae Shell called her collections 'a divine balance of classic lines and modern fabrics.'
Flora Lastraioli
This family company originated at the beginning of the nineteenth century in Florence when their great-great grandmother, Amalia, was appointed the 'official embroideress' at the court of grand-duke Leopoldo of Tuscany. The company still specializes in embroidery and also uses 'precious Swiss laces…volants, ruches, silk satins and flimsy georgettes', according to its website. It also uses the very best materials to make its lovely lingerie, including 'pure cotton muslin and voile, polyester, linen and jersey' as well as pure silk satin and georgette.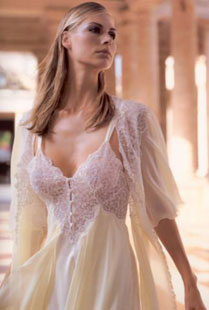 The company's new collection (2015) is divided into six sections: cotton, jersey, black, boudoir, basic and haute couture. But don't be fouled by the names: the cotton, jersey and basic collections are just as sexy and romantic as the boutoir and haute couture.
Cosabella
Cosabella means 'beautiful thing' and their lingerie certainly fits that description! Founded in 1983 by married couple, Ugo and Valeria Compello, this brand has its headquarters in Miami, Florida and is manufactured in Italy. Favored by movie stars and pop singers, Cosabella is renowned for its lovely lingerie and swimwear, which is also comfortable. It has been featured in many movies and television serials. Jennifer Garner, for example, wore the Ceylon range in the movie, Daredevil, and Nicolette Sheridan wore one of their pristine white camisoles in the popular TV series, Desperate Housewives.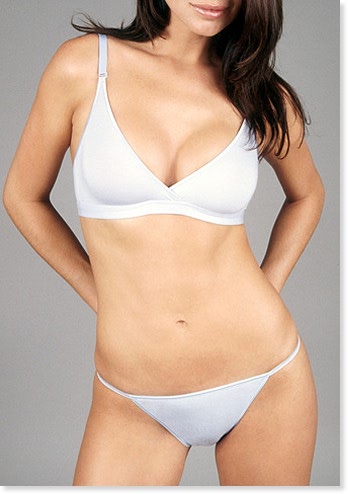 The New Soire collection which is made of the finest Italian tulle is probably the most popular. Cosabella's motto is 'Freedom of Color' and this collection is famous for its vibrant colors – there are over 45 different colors. The pieces include seamless hot pants, thongs, bras and camisoles, all in simple but sexy styles. Cosabella's famous Soire thong won the most comfortable thong award from In Style Magazine.
Intimissimi
Many Italian women have a secret. Instead of buying the very expensive La Perla lingerie, they prefer the reasonable prices of Intimissimi which has stores all over Italy. They have 809 shops placed around the world.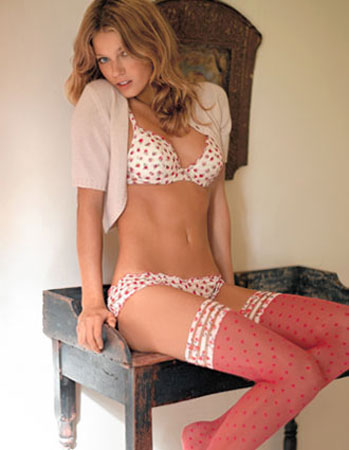 The new Intimissimi collection features pretty florals, tropical stripes and sophisticated black mesh. There is also a basic collection focused on comfort of lingerie in plain colors.
By Lisa Sanderson
See also: Classic Lingerie Article