He's an Italian artist of Scottish descent. Born in 1951, Jack Vettriano still inspires viewers with his surreal art.
Jack Vettriano is known for his gentle touch and somehow surreal, but elegant use of color. His art has ambience, feeling even.
A brief story of Jack Vettriano
He started as a hobby. To Vettriano, art was an activity for his spare time, since he didn't have any artistic education or training. In fact, he only had talent. And what talent it was. Years later, his works are highly priced, ranging between $500,000 and $1,000,000.
Vettriano's work has a timelessness allure, that mixes perfectly modernity and past and makes his painting both extraordinary and fascinating. As his reputation grew, so did his commissions by celebrities. They liked his talent and prestige. Also, they enjoyed his punctual and high-quality work. Indeed, an unforgettable final product.
Jack Vettriano is a largely self taught artist who, growing up, didn't have access to much extra money. For this reason the artist pays particular attention to charity and those in need, especially young students seeking scholarships. 
The artist also participates in charity auctions by donating his paintings, a very nice gesture that helps raising significant amounts of money. Of course, Vettriano also benefits from the potential sales of the prints, but the beauty of his gestures is that he can combine working with helping, something other artists may also want to consider.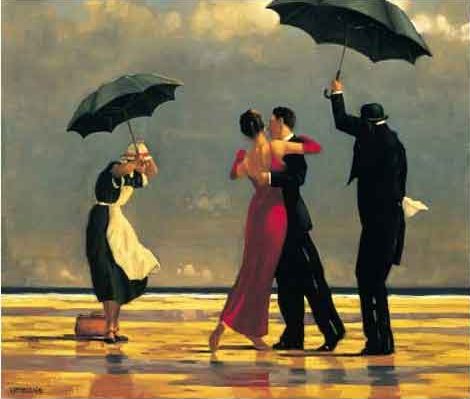 Curious about Italian artists? Check out out brief intro to Antonio Canova. Read more here.