The team suffers and the match goes to extra time. Then, a goal of Chiesa and Pessina closed the deal.
The match Italy vs Austria didn't go as planned for Mancini's players. They pushed to score, but so did Austria. And, a few times, the Austrians were close to scoring and changing the course of the game. What gave Italy the win and the pass to the quarter finals? Players who were hungry to succeed.
Italy vs Austria, through suffering and triumph
After the team's success during the group phases of Euro 2020, everyone's eyes were on the Italy of records. Still, before the game even began, there was a controversy. To kneel or not to kneel, that was the question for both Italian and Austrian players.
Kneeling? I stand by freedom.
In fact, some Euro 2020 teams knelt before the start of their games, to show support to the Black Lives Matter movement -and to reject all kinds of racism. During the game Italy vs Wales (the last one of the group phase), not every Italian player on the field knelt. Indeed, it was weird to watch and unsettling to many viewers. While the 11 Welsh knelt, only five Italians did. The reaction came right away. Why did they choose to stand? And what would they do during Italy vs Austria?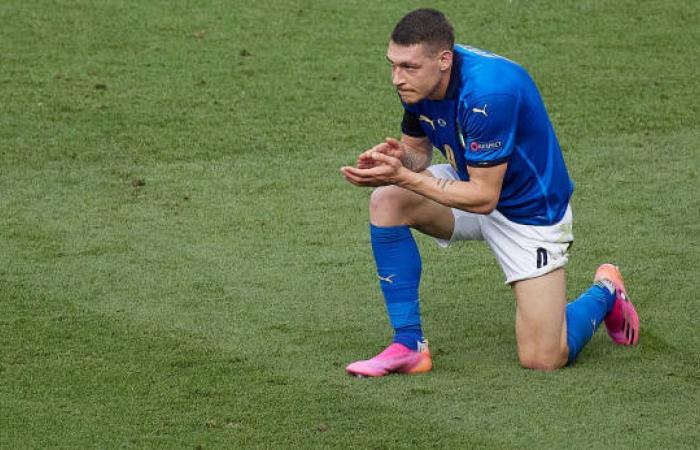 "Kneeling before the match against Austria? I'd rather not talk about it," said coach Mancini during a press conference, "and, anyway, I stand by freedom." The final decision? Italy would kneel only if the other team wanted to do it and asked for it. Since Austria decided to stand, the Italian team followed suit.
"When the other team will ask us, we will kneel," said player Giorgio Chiellini, "for solidarity and sensibility towards the other team. We will try fighting racism some other way, with initiatives in the next months." While it's not clear of what initiatives Chiellini is talking about, Italy's stand on this issue is clear. So, after standing up before the beginning of Italy vs Austria, it was time to start playing.
The goals of the reserves
Indeed, this was the night of redemption for players who usually start from the bench. While stars like Immobile and Insigne came close to scoring, Chiesa and Pessina closed the deal. They entered the match later, but they left a mark. Both players proved their worth during the extra time and they might gain a spot from minute one during the next game.
Still, Austria never gave up in the 120 minutes, managing to score one goal and to put fear into the Italians' hearths. Mancini 's players suffered at Wembley, but they pulled through. Now, it's time to see what team they will face in the quarter finals. It will either be Belgium or Portugal. And the appointment is Friday, July 2nd, at 9PM, local time.