See Part 1 for more information on Italian Kitchen designs
Another major company manufacturing kitchen furniture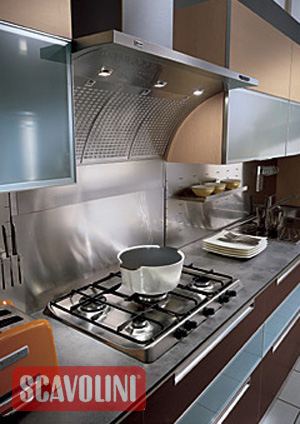 Scavolini has as its motto "the kitchen that is most loved by the Italians". This company also has developed kitchens with clean lines and functional storage and working space.
Snaidero is a company has issued a publication of 144 pages called Kitchen.it and is another of the major manufacturers of kitchens in Italy that takes pride in quality and design. The company has as its motto "kitchens for life" as a reflection of the attention given to producing components that will endure over time both because of their quality as well as their style.
Essential modern design, ample use of steel surfaces and restful colors are characteristic of the newest lines of this manufacturer, for example in the case of the model "Skyline" that is competitively priced and is sold with a 10 year guarantee.
No kitchen decorating problem is too small to be addressed. Even for kitchens with limited space innovative design has resulted in special lines that marry practicality with attractive decorative solutions. For example, contained cooking surfaces and sinks of the Rondo line, made of steel, are marketed by Foster.
Another Foster solution is provided by the corner cooking surface that aims at resolving space problems in a harmonious and attractive manner. In the other direction, where space is not a problem, a newly designed cooking surface produced by Ariston "multifunction" provides about 25% more cooking space compared to standard surfaces.
A clean, linear design is characteristic of the model "Seventy" of the quality kitchen manufacturing company Ernestomeda promotes its product as enduring in the future both because of design as well as because of accessibility in terms of cost.
Similarly the company Home (homecucine.it) produces quality and functional kitchens that have overcome special resistance tests and hence are destined to last over time. Beyond the quality aspects, the design of these kitchens is particularly attractive making use of clean lines and light airy colors.
Fully attuned to the latest trends in kitchen design and decoration, is the company Binova that promotes its "techno-logical" kitchens. There is no doubt that these kitchens are both technically valid and logical in terms of design, functionality and quality of materials, but they are also aesthetically stunning such as in the case of the model "Continua".
The colors of nature inspire many of the newer styles in kitchen furnishings. The company GeD produces a kitchen called "Naturasia Forma" that is made out of European cherry wood. The warm natural color of the wood is highlighted by steel appliances and handles, as well as by the striking design. There is ample work and storage space in this functional kitchen, including a thick cutting board is inserted in the work surface.
The so-called "traditional" style kitchens have been revisited to bring them more in line with contemporary decorating trends. Thus, for example, the collection "Rio Bo" of Minacciolo (www.minacciolo.it) has an aura of tradition in the components of the kitchen, but the design tends to be linear, even for the "granny's cupboard", while the colors of the wood are light and airy in contrast to the dark oak widely used before. The choice of colors ranges from creamy white to tan and blue dawn.
As you can see, Italian kitchen design has moved into the modern age while revisiting – almost longingly – a treasured and unforgotten past.