From the 1950's to Today, Italy's Influence is Prominent
In the 1950 and 1960 decades, Americans were greatly influenced by Italian automobiles, film producers and fashion designers. Italian trendsetters dictated what Americans drove, what they wore and how they looked. The American public was buying items that originated in Italy. The First Lady, Jacqueline Kennedy, loved fashions by designer Oleg Cassini. People were greatly influenced by the hats, suits and jackets worn by Jackie.
Italian film producers had a great impact on American's interest in the European lifestyle. The Italian carefree lifestyle and it can wait till tomorrow attitude appealed to American moviegoers and they swiftly began to copy these characteristics. Al Martino, Dan Martin and Mario Lanza's songs were at the top of the music charts. Even Walt Disney's Lady and the Tramp, was influenced by Italian music in the scene where the two canines shared a meal of spaghetti and meatballs. Bella Notte, a song composed especially for the film, played as the dogs shared a meal and a kiss. Both the scene and the song were a great hit with American audiences.
Americans flocked to the box office when films that featured Italy were playing. The Rose Tattoo, Summertime and Three Coins in the Fountain, fed the frenzy for all things Italian. Fashion designers Cassini, Gucci, Pucci and Simonetta were in high demand. Wealthy Americans bought up the cars made by Alfa Romeo, Ferrari, Lamborghini and Maserati. But all of these things couldn't compare to the beautiful, sexy women and romantic men that were featured on the Silver Screen. They came in all shapes, styles and sizes and cast a spell of enchantment over American movie audiences.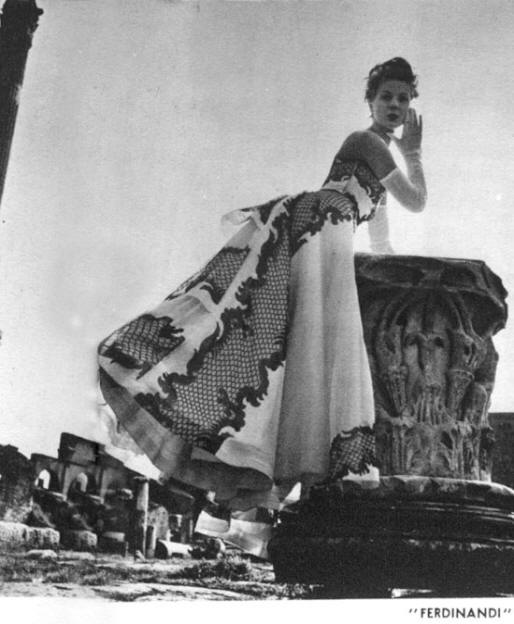 Gina Lollobrigida was the first Italian woman to make an impact on American postwar fashion and trends. She brought the short, saucy hairstyle to America. Beauty salons across the country were quick to pick up on the artichoke cut, as it was called. Any teenage girl or woman wanting to emulate the actress only had to ask for a Lollobrigida look and the salon immediately knew exactly the cut she wanted. Gina had piqued the interest of the American public when she starred in Trapeze with Tony Curtis and Burt Lancaster. Because the Italian influence was so great, the hit TV series, I Love Lucy, got in on the act. One of its most popular episodes was when Lucy and Ricky traveled to Italy. Lucy wanted to star in a film. Instead, she ended up stomping grapes at an Italian winery.
The American public w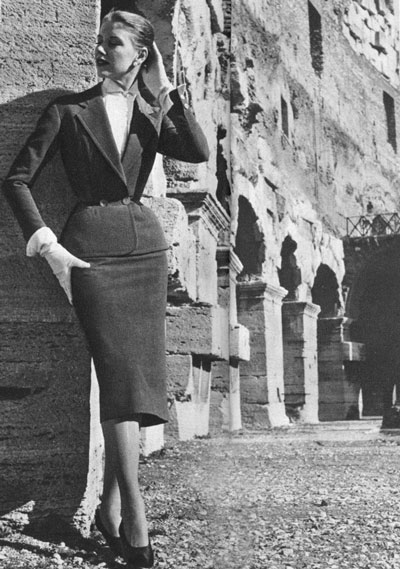 as enthralled with imports from Italy and women were crazy for hoop earrings, low-cut blouses that showed off their cleavage and short haircuts. Brunette was in and American women spent hours in beauty salons transforming their golden tresses to dark colors.
At this time, Sophia Loren appeared on the scene when she starred opposite Frank Sinatra in The Pride and the Passion. She played opposite America's most prominent male actors, including Cary Grant, Clark Gable and Anthony Quinn. Sophia was an instant success. Sales of padded and push-up bras soared. American women wanted to acquire Sophia's voluptuous look. While Gina and Sophia were setting American fashion trends,
Italy's male actors, including Rossano Brazzi and Marcello Mastroianni, were generating a new look for American men. Dark glasses, silk shirts and suits, sporty hats and fast cars were the fad of the day. Men in America became more laid-back and carefree, adapting what they thought was the Italian attitude and lifestyle, which included the accent. Comedian Pat Herrington Jr. appeared on Jack Parr's Tonight Show, where he claimed to be Italian born. The American public was crazy for Herrington until they found that his claim was a ruse. In fact, he was American born and was of Irish descent.
The fast cars, fashion fads, movie stars and laid-back lifestyle were very appealing to a generation that was enjoying a prosperous economy after the poor economical climate of the postwar era. Today, fads and styles come and go as fast as a lightning bolt. However, in the 1950s and 1960s. the Italian influence on America was alive and well and some of it is still apparent in society today.
By Mary M. Alward