Italian Garden Furnishings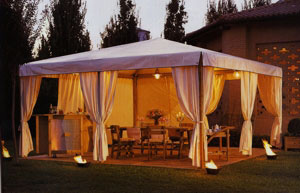 Garden and terrace furnishings for relaxed living Style and design in Italy now looks beyond the walls of the home alone. Increasingly, terraces and gardens are being turned into attractive and comfortable living areas, substituting the living or dining room during the spring to autumn period, and representing a place for the family to meet or to entertain guests.
Numerous producers of garden and terrace furniture offer standard and custom made pieces to fit all needs. For example, the company Le Terrazze which has as its motto "Style in the decoration of the outdoors" has created unique and functional outdoors furniture suitable for creating unique garden, terrace and patio atmospheres. The company Tartaruga also aims at decorating outdoor spaces. The articles range from furniture to flower boxes, and are made of treated pine wood so that they do not deteriorate over time.
Italian design has always been synonymous with superb quality and unprecedented style but that attention to fine detail, the finest materials and the very latest Mediterranean styles does not stop merely with the interior of the house. Italian garden and terrace furnishing designers are now accommodating for the Italians passion for eating "al fresco" like never before!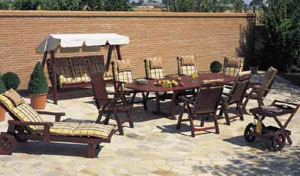 Italian design now accommodates for more than just the fresh and chic med. interior, as it has now turned its attentions to many interesting solutions for providing style and glamour in the garden- extending the constraints of interior style far into the garden setting.
Italian design now provides harmonious solutions for eating al fresco in the outdoor room from the bright days of spring through to the romance of late autumn. There are now high quality Italian manufacturers specializing in innovative and original design ideas for entertaining family or business guests that reflect the style of the Italian interior perfectly.
Companies such as "Le Terrazze" has released its latest "Style" range, providing an exciting and unique selection of outdoor decoration for garden, terrace and patio areas with a strong Italian flavor.
Or Tartaruga also aim at decorating outdoor spaces using the very finest of Italian style. Tartaruga's products range from stylish outdoor furniture to original flowerboxes carved from the very finest treated pine wood, designed both to turn heads and last the test of time.
See More about Italian Garden designs