The Dazzling Designer: Carlo Mollino
An original Carlo Mollino table sold for millions at Christie's
recently. His pieces are highly prized by collectors, and new
retrospectives of his work are opening soon in New York and London. Yet he was regarded as an eccentric and many of the buildings he designed have been destroyed.
Mollino was 'a man of many parts'. Handsome, dashing and dangerous, he raced cars, piloted airplanes and skied. He took secret photos of nudes which are now regarded as art as well as designing buildings and furniture.
Architecture
Born in 1905, this son of an engineer completed a degree in architecture. He won the G. Pistano prize for architecture and designed his masterpiece, the building of the Turin equestrian association. Unfortunately this was destroyed in 1960. His lavish buildings were influenced by surrealism and even Fascism.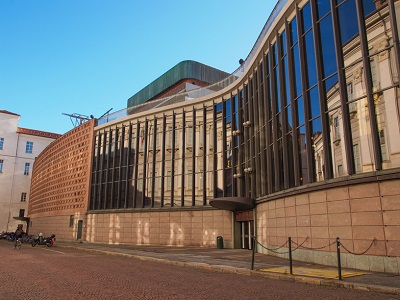 His other famous buildings include the monument for the soldiers in the cemetery of Turin (which he designed with the sculptor, Mastroianni), the Chamber of Commerce and the Teatro Regio in Turin.
Fascinated by the occult, Mollino admired an ancient Egyptian architect, Kha. Kha designed his own tomb and Mollino copied him by designing the room that he intended to die in his eighteenth century apartment in Turin, Casa Mollino. Like the ancient Egyptians he wanted to sail away with personal treasures so he designed his splendid bed in the shape of a boat.
One wall of the room was covered with butterflies, which are symbols of ancient funeral rituals and women. Mollino, a notorious playboy, hoped that women would join him in the after-life!
Mollino filled the apartment in which he never spent a single night with items that he wanted to take with him after death accompanied with spiritual messages. He liked luxury and furnished the apartment, now a museum, with velvet curtains, a marble fireplace and a chandelier made of Murano glass.
Another unusual design was the interior of the Lutrario ballroom. He wanted this to be like a forest clearing where elves and fairies danced. He used velvet drapes, woodland engravings and floral tiles to create an enchanting effect.
Mollino wrote in an essay on architecture: "Only when a work is not explainable other than in terms of itself can we say that we are in the presence of art. This ineffable quality is the hallmark of an authentic work. Whoever contemplates it receives a "shock" that is unmistakable and, above all, unexplainable – a shock that he or she will try in vain to explain in rational terms. There are no reasons. If there were, we would have a way to build a convenient machine for making art through logic and grammar….."
Cars and Aeroplanes
Mollino loved to race and design cars. He wanted to break the speed record and drove his famous Bisiluro car which he designed himself in the Le Mans race of 1955. It was propelled by its Giannini engine at an average lap speed of 148 kph. This is still admired today for its aerodynamics and classic, clean lines.
He also piloted aeroplanes and invented instruments for them so that he could do risky manouvers.
This fascinating designer was also an expert skier. He designed a device for walking on skis and wrote a book on skiing techniques.
Furniture
Mollino's furniture was mostly designed for special commissions and to be part of a specific site. He often based his designs on trees, or animals. Many seem to resemble the shapes of voluptuous women. One feature that he often used is a split back.
The armchairs that he designed are especially famous with their sensuous lines and space-age looks. They include the Ardea and Gilda designs which are low-slung and have comfortable seats and wooden frames.
Photography
Mollino took many nude and semi-nude photographs of women from Turin which he kept for his own use. These photos, only discovered lately, are regarded as art because the designer styled every aspect of them and used theatrical settings and formalized poses. He kept these erotic photos, which he took with a Polaroid camera, hidden. The reasons why he photographed these women remain mysterious.
Mollino was Professor of Decorative Arts at the Turin Polytechnic and later Professor of Architectural Design at the Turin Polytechnic.
He died in 1973.