Contemporary art junkies can get their fix at Milan's sleek new Bovisa Triennale center. It's art in Milan, a short ride away from the historic center.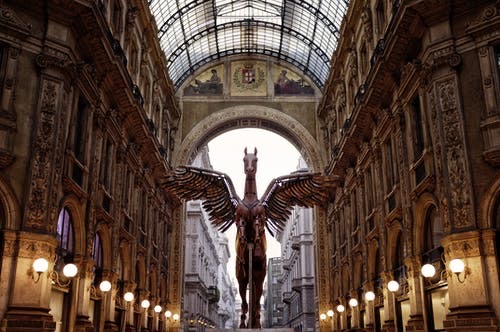 Take a short ride on the metro from the center of Milan and you arrive in Bovisa, the neighborhood of art in Milan. Contemporary living is the focus of this 2500 square meter mega center. Browse through the compound of galleries featuring emerging artists' controversial paintings.
The complex also features designer furniture, and video installations for a mere 6 euro entrance fee.
Art in Milan: exploring Bovisa
MiFair is a contemporary art fair showcasing Italian and international art work that takes place in early spring at the Fiera Milano Fairgrounds. Collectors, gallerists, artists, museum directors and curators travel around the world for this annual event.
A lively program of conferences and discussions encourages interaction in the art community. In addition, each year a new country becomes the Guest Nation Project.
Also, here's a selection of contemporary art galleries in Milan. Furthermore, they are 100% Life in Italy proofed.
10 Corso Como, of course. The 13,000 square foot complex features a café, boutique, and art gallery. Created in 1991 by Carla Sozzani, this is a powerhouse of art, literature, fashion, and beauty.
Galleria De Carlo is at the forefront of prestigious art galleries. The artists represent countries around the world. Visitors can expect an exciting mix of media and light. Or video installations at this cutting edge space. You can find it at: Via Giovanni Ventura 5, Milano
Arte Studio Invernizzi is a unique contemporary art gallery. It features exhibitions, alternating Italians and foreigners in order to create a dialogue and allow comparisons. Via d. Scarlatti 12, Milano.
Indeed, Milan is the city of fashion. But it is also the city of art. Every year, new galleries open. And they are all worth checking out. Of course, these are the ones you can't miss. Also, when we speak about Italian art, there is one thing you can't miss. Yes, it's the Sicilian maiolica. Find out more here.