"New fashion begins in the mind of the designer," Salvatore Ferragamo once said. The great shoe designer put this into practice during the course of his very successful and innovative career.
Born in the tiny village of Bonito, near Naples, in 1898, he was the eleventh of fourteen children. The young and ambitious Salvatore came from a very poor family that couldn't even afford to buy shoes for his sisters' First Communion. Salvatore made the shoes for them, and thus found his calling. He was only nine at the time.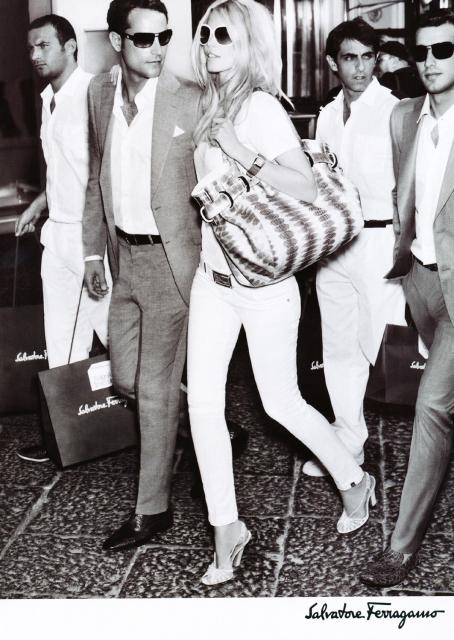 At the young age of fourteen he opened his first shoe shop in his parent's house. But then in 1914, he decided to go to America, where there were more opportunities, to join his brothers in Boston. Soon after he went to California where his shoe repair and specially made shoe shop in Hollywood became famous, and he began to make shoes for the American Film Company.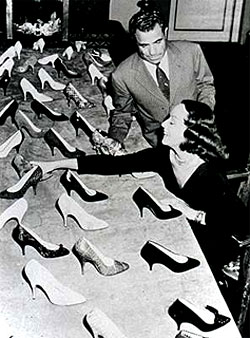 Called the 'Shoemaker of the Stars', Salvatore made cowboy boots for Cecil B. de Mille, beautiful shoes for such stars as Audrey Hepburn and Marlene Dietrich, and the famous ruby slippers that Judy Garland wore as Dorothy in The Wizard of Oz (1939). This fulfilled his dream that 'every woman may be shod like a princess, and a princess may be shod like a fairy queen'.
As he thought that shoes should not only be lovely to look at but comfortable to wear as well, he studied anatomy University of Southern California, and then designed the steel arch support so that shoes could give better support to the feet and the body.
Probably his most famous invention is wedge, of which the "Rainbow" wedge sandal is the best example, created in 1938 for Judy Garland with cork and multicolor suede. It can be seen at the Ferragamo Museum in Florence, housed in the Palazzo Spini Feroni in Piazza della Trinità.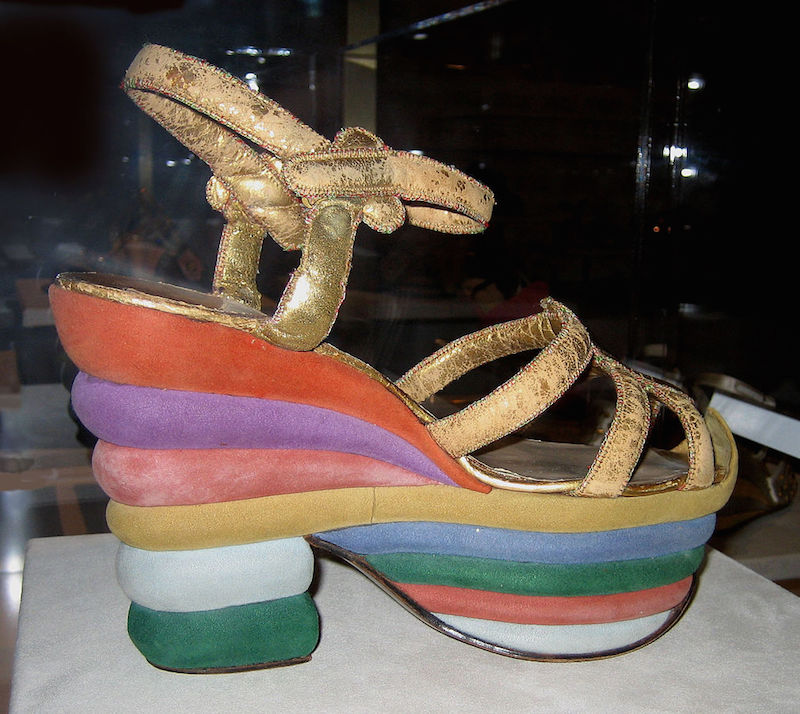 His other inventions included the famous stiletto heel, which was worn by Marilyn Monroe. After he returned to Italy in 1927, and set himself up in Florence. In 1929, he established a workshop at Via Manelli. At this time, there was a shortage of raw materials, so he got creative and used leather substitutes like corks of wine bottles sewn together and then lined with leather to create heels. These became his famous cork wedge. He also used bakelite and wooden soles. Some of his shoes were decorated with tiny glass mirrors. Some were painted all different colors. The influences he used ranged from wrought iron balconies to small mosaics in Italian palaces to cubism and the fashionable Art Deco. He also patented his many designs.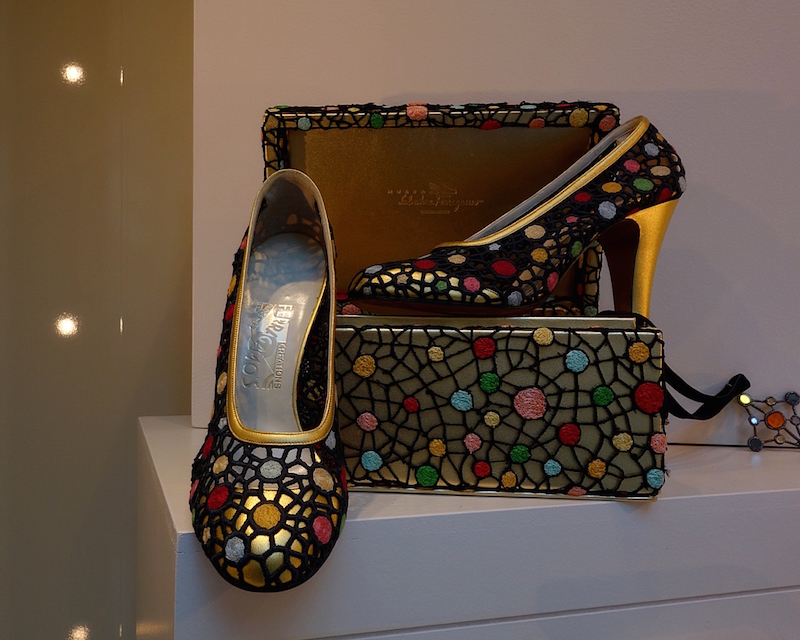 The 'invisible' shoes which featured thin nylon strands wound around the sole were another of his famous inventions. These won him the Nieman Marcus Prize in Dallas in 1947, considered the 'Oscar' of the fashion world.
Forced to file for bankruptcy in 1933, he overcame this and he once again opened his store in Florence where his shoes were made by 700 expert shoemakers. They made 350 pairs a day, all by hand.
Although Salvatore died in 1960 when he was only 62, the famous House of Ferragamo is now a huge business, which sells many other goods, such as beautiful gloves, scarves, soft leather, and a large range of clothes, as well as shoes. Its centre is still the medieval Spini Ferroni building in Florence. The company has grown tremendously and retails through stores worldwide, from the United States to Asia, the brand is present in almost all the big fashion destinations.
Fiamma Ferragamo had already begun training under her father by 1959, and in 1962 presented her first collection in London. By 1967, she had created quite an impact on the brand as well as Italian fashion itself, and received the Neiman Marcus Award. In 1980, the brand stepped into clothing by presenting its first ready-to-wear collection. Ferragamo continued to flourish as a brand and acquired the majority shares of Emanuel Ungaro in 1996.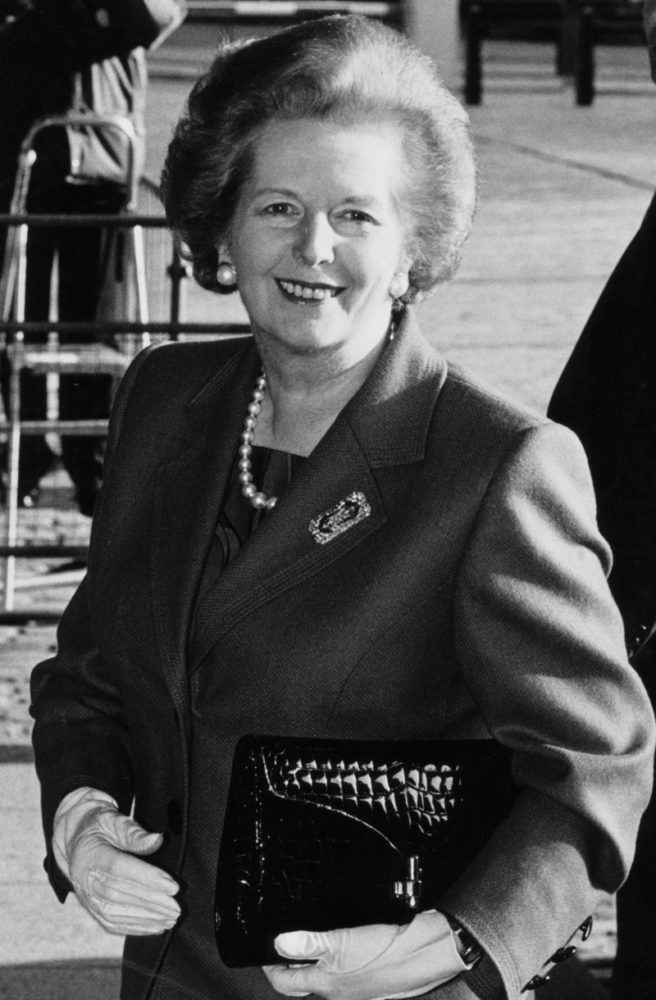 Celebrities still favor Ferragamo designs. Mel Gibson, Judy Dench, Al Pacino have all worn them. Madonna loves their shoes. The list of Ferragamo fans is practically endless, and includes illustrious names like Princess Diana and Margaret Thatcher, who loved to carry her famous Ferragamo bags. Drew Barrymore's beautiful slippers in Ever After, based on the story of Cinderella, were hand-made especially by the company. These shoes were made of satin covered with Indian muslin and woven with silver thread, and had a transparent plexiglass heel with a shimmering crystal effect, decorated with silver beading.
The family continues to carry on the proud tradition. One son, walking in his father's footsteps, made his mother's shoes when he was fourteen. Salvatore's wife and six children all play a role in the business, still renowned for its grand elegance and style. The women's ready-to-wear is now designed by Cristina Ortiz, and the menswear by Massimiliano Giornetti.
Ferragamo's legacy lives on in the brand. This company has taken technology and craftsmanship to a new level to ensure that today's men and women enjoy good-looking, comfortable shoes and clothes that fit right in with their twenty-first century lifestyle.
By Lisa-Anne Sanderson
Edited and Updated by Damyanti