Fendi is all about refined Italian glamor. It is an unabashed display of richness and sensuality, and a taste for indulgence–what began as a small family business has today spawned a fashion empire with flagship stores located all over the world. Adele Casagrande, founder of the House of Fendi, opened a small fur and leather goods shop in Rome in 1918. In 1925, Adele married Edoardo Fendi, and changed the name of her shop to reflect her own new surname. The Fendis had a long list of loyal private clients, and in 1938 they opened a second shop in Rome.
Carla and Anna Fendi Fendi Womenswear
Over time the business continued to grow, and each of Adele's five daughters joined the family business as they became old enough. Edoardo died in 1954, leaving the business solely in the hands of Adele and her daughters. Paola took over the furs, Anna concentrated on leather goods, Franca was in charge of customer relations, Carla became the business coordinator, and Alda headed up the sales department. With five active and vibrant young women at the helm, The House of Fendi began to climb the rungs of the haute couture ladder.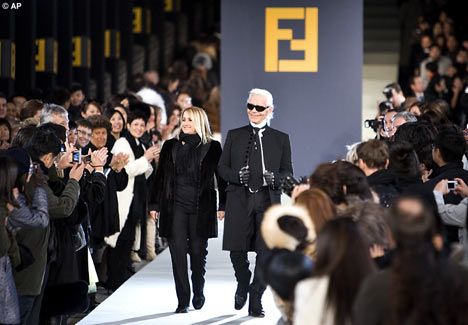 In 1965, German designer Karl Lagerfeld joined Fendi, bringing them his superb sense of fashion and design expertise. He created the inverted the "Zucca" or the "FF" logo, which would eventually become a worldwide status symbol.
Already well known for their treatments of luxurious fur accessories and garments, Lagerfeld and Fendi began to develop new and different ways to use fur. They made it lighter and less cumbersome, softer and much more wearable. They continued to find new ways to treat fur, including new methods in tanning and dyeing it, and created pieces out of hides that had never been used in the fashion industry. They also created the lighter and more fitted coat for women for the first time, which has now become a Fendi staple.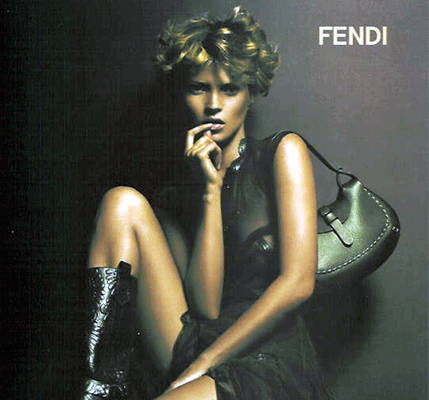 With successful runway shows and couture collections, Fendi was becoming a leader in the world of fashion. Bloomingdale's was the first American company to sell Fendi in the US, and soon there were boutiques and licensed resellers across the globe.
Fendi Show on Great wall of China Kate Bosworth & Zhang Ziyi at Fendi Show
The Fendi sisters had discovered that they couldn't find the exact garments they wanted their models to wear under their furs, and thus the Fendi ready-to-wear line was created. Fine fabrics and designs that were ahead of their time brought Fendi into the spotlight once again.
It wasn't long before Lagerfeld was creating accessories to go with their clothing collections. Most famous for the brand is the 'Baguette' handbag, which is named after the French loaf of bread, carried under the arm.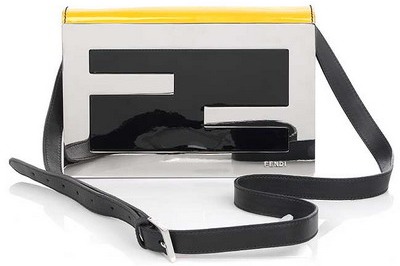 Fendi also created a line of clothing for the younger set, called Fendissime. They also have the home line, called the Fendi Casa, and have launched several perfumes like the Fendi for Women, in 1985 and subsequently Theorema Uomo, Fendi Uomo, Celebration and Fantasia. On the business side of the operation, Prada/LVMH bought up 51% of shares in Fendi in 1999. In 2001, Prada sold their shares to LVMH, so LVMH now owns Fendi.
Nowadays, Maria Silvia Venturini Fendi, daughter of Anna Fendi, is head of the style department, and their chief designer is Karl Lagerfeld. In October 2007, Fendi presented the Spring / Summer '08 collection on the Great Wall of China in front of distinguished guests, thus marking its popularity with the burgeoning number of Chinese luxury goods consumers. The House of Fendi continues to be one step ahead of the rest, with cutting edge designs and bold accessories.
There are currently over 100 Fendi stores worldwide, with a flagship store on New York City's trendy Fifth Avenue. Although their boutiques are scattered across the globe, Fendi remains faithfully stationed in Rome. Fendi targeted a sale volume of 600 million euros in 2007, and has proved to be one of the most profitable acquisitions of LVMH.
Fendi is all about high fashion and drama, with innovative creations and collections that never fail to impress and surprise the fashion industry. Above all, they continue to produce high quality and luxurious furs for the fashion-loving masses. Though she died in 1978 at the age of 81, Adele Fendi has created a fashion empire that has exceeded all expectations.
By Carrie Grosvenor
Edited and Updated by Damyanti