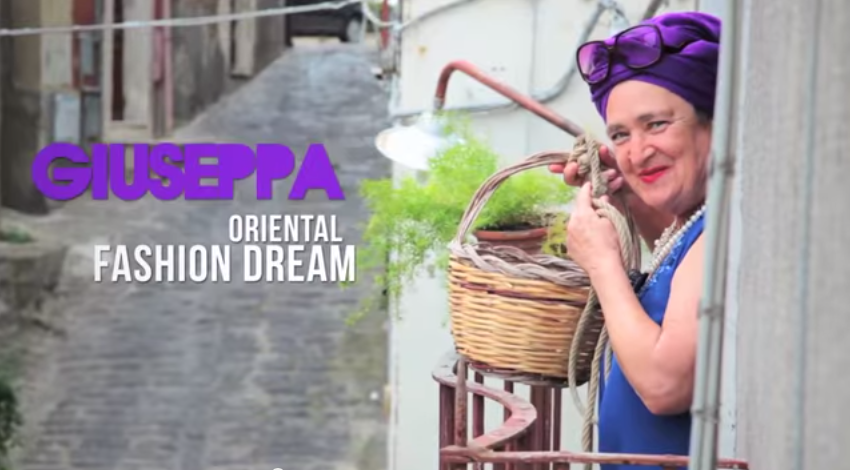 Normally, when people talk about Italy and fashion they're thinking of cities like Milan, with exclusive boutiques and high end fashion shows, or maybe  Florence, which boasts both designer shops and great outlets outside the city. I'd wager not many would throw out Agira as one of Italy's fashion capitals, but now the small Sicilian town is looking to change all that, starting with a clever video ad that has been making the rounds on the Internet for the past 12 months.
Watch the video here:
The video that promotes a new Outlet in Sicily
The minute-long video is the brain child of creative director Juan Serrano Ortiz, copywriter Nicolas Bartleby and agency producer Spela Marincic of Palermo's "viral media company" Mosaicoon. It opens with images of the small town Agira (which is described as "ancient"), including old buildings and goats. Then things get interesting. First we see elegant Anna, walking through charming streets with her shopping bags, dressed in what the video terms "Natural Red Style." Indeed, Anna rocks her red lips and bag along with a glamorous fur collar and large shades. Next is Antonio and his "Experimental Scottish Elegance" made up of blacks, yellow–and plaid! Santa (shown in the photo above) is a breath of fresh air in canary yellow. The copy above recommends wearing the colors of the sun during the winter months and explains that "in the splendid center of Agira even a weekly Sunday walk turns into a runway show!" A smiling Giuseppa is seen lifting a basket up her balcony while wearing an oh-so-trendy purple turban and bright lips. Filippo's "Casual Briscola Style" includes a great poorboy cap, graphic tee and pinstriped blazer that wouldn't look out of place on someone half his age, but we couldn't take our eyes off of Filippo's card game opponent, who rocks a red tie and bright pink pocket scarf with aplomb. It definitely takes a man of real style to pull that particular combo off. Next we see Nino leaning against his bright blue car, dressed in a striped sweater with his scarf casually thrown over one shoulder for the "Dolce Vita Total Look." Orazio sports "Original Dandy Style", complete with suspenders and ascot. And the list goes on, with many fashionable older Agirans featured in this video looking totally hip, cool and stylish.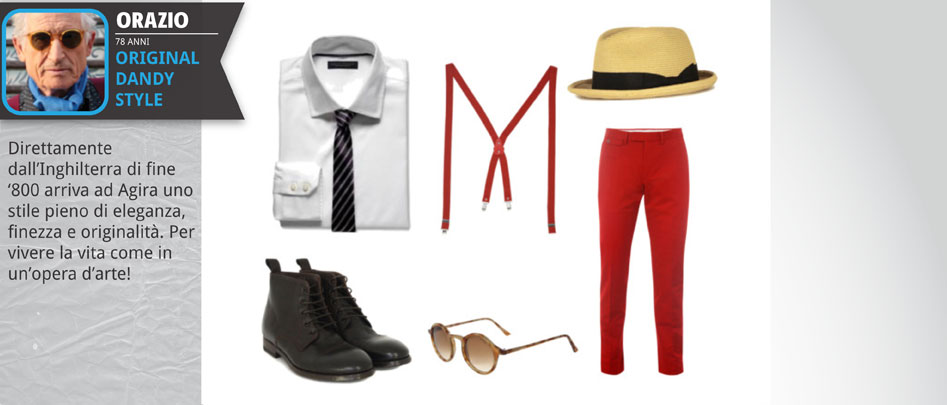 This video, set to the sounds of Eduard Khil's Trololo song, takes older Sicilians in an ancient town, doing normal everyday tasks–from grabbing a drink at the bar to taking a walk–and dresses them in hipster fashions. The tunes are catchy, the video is perfectly shot and the Agira residents don't look foolish in their get-ups, rather incredibly stylish. For those not yet convinced that style is something that most Italians carry around in their blood, one need look no further than this video for proof. If you're looking for some of that Italian chic yourself and are planning on visiting Sicily you might want to think about visiting Agira and it's Sicilia Fashion Village, which is what this clever video is promoting. Whether or not you're interested in checking out the stores and outlets at Agira's new Fashion Village you should still view this entertaining video.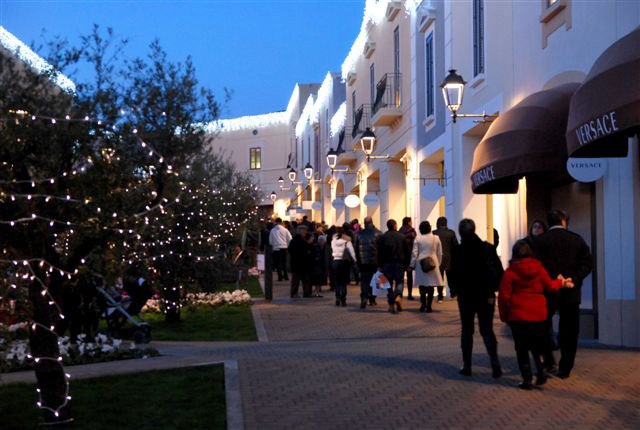 If you are interested in the shopping, stores and fashion you'll be happy to know that the Sicilia Fashion Village offers over 100 labels and outlets where you can buy fashion discounted by up to 70%. The clothing shops include D&G, Armani, Versace, Bruno Magli and Zegna. You'll find home products at Alessi, La Casa Italiana, Moneta and Agrodolce, which features traditional Sicilian products. There are stores for sportswear, kids clothing and accessories, not to mention perfume, cosmetics and bath and spa products. If, after all your shopping, you discover you're in need of a new luggage to haul your purchases home look no further than luggage shops Piquadro, Segue… and Roncato.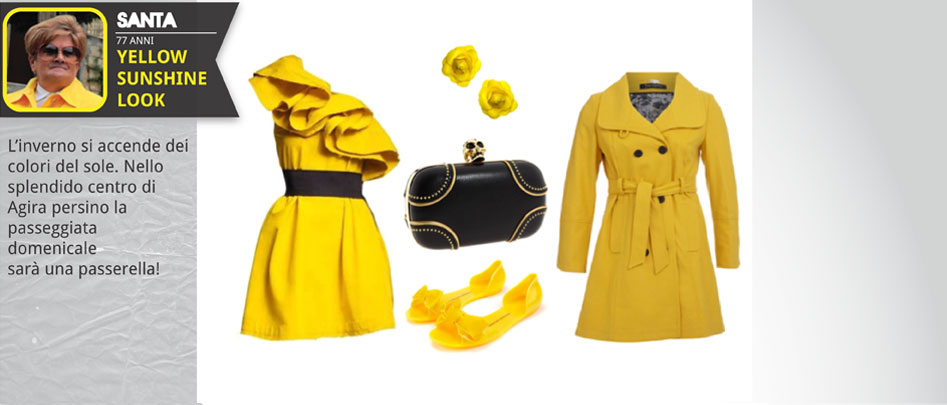 Getting to Agira, in the province of Enna, is fairly easy if you do wish to visit. By car the town is about 70 minutes from Palermo, 40 from Catania and 20 minutes from Enna. A bit farther are Siracusa (75 minutes), Agrigento (90 minutes), Messina (80 minutes) and Ragusa (2 hours.)  You can see the outlets from the Palermo-Catania Highway, right around the A19 Exit for Dittaino – Zona Industriale. Once you're off the highway the road is clearly marked with signs pointing the way to the Fashion Village. Another great option to reach these outlets, which are open 7 days a week, is to take the free bus offered from many of the Sicilian cities. If you'd like to take advantage of the free bus option you'll have to plan ahead and reserve, either by telephone (091.6205814) or via email ([email protected]). Before you plan your trip to Agira take a look at the Fashion Village website for more information, including a breakdown of outfits inspired by the film with items available for purchase at the outlets.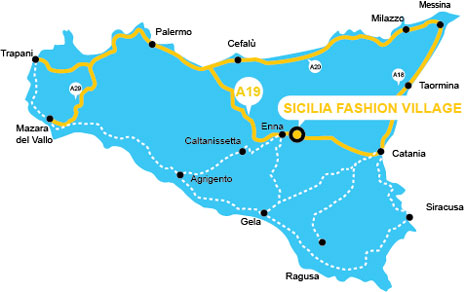 Whether or not you plan on visiting and shopping in Sicily this video is a great reminder of the life and style you'll find in Italy. It's also wonderful proof that fashion and cool are not just for the young, but also for the young at heart.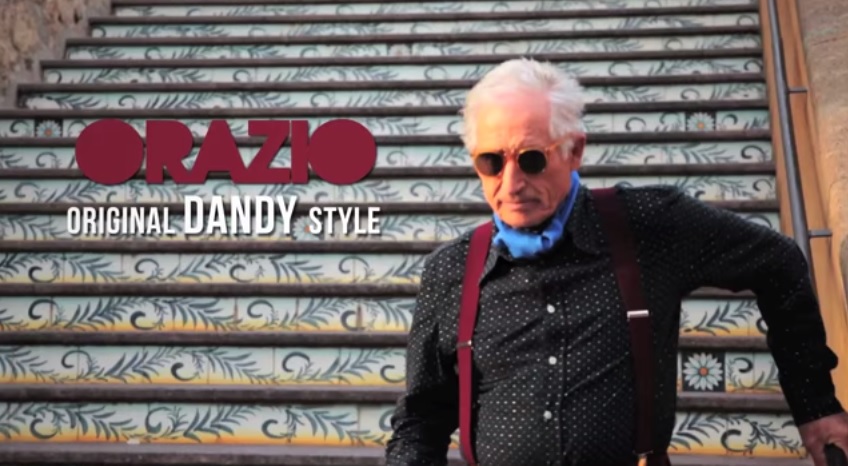 The Sicilia Outlet Village
Contrada Mandre Bianche – 94011 – Agira (Enna)
Telephone – 0935 950040
Monday to Friday – 10:00am – 8:00pm
Saturday and Sunday – 10:00am – 9:00pm
Others involved with the making of this video include: Client Director – Pietro Sorce, Head of Seeding – Marco Imperato, Stylists – Roberto Pagnotta and Daniela Colajanni, Graphic Designer – Flavia D'anna, Editor and Post Producer – Michele Castelli