Italian Designer: Gio Ponti
A man of many talents, Gio Ponti's name is one of the first to come to mind when speaking of Italian designers. Born in 1891 in Milan, Ponti spent his childhood in the Italian capital, and enrolled himself in an architecture degree at the Politecnico Milano.
Gio Ponti's early career:
He graduated in the year 1921, having interrupted his studies during World War I. But instead of using his architectural degree, he chose to work as an art director for the ceramics manufacturer, Richard-Ginori. During his stint at the company from 1923 to 1930, he introduced industrial design excellence to the Italian design scenario: he used simple ceramic forms, but distinguished them by using elegant neo-classical motifs in their decoration. He went on to win the Grand Prix at the 1925 Paris Expo.
In 1928, Ponti founded a magazine, Domus, which became his mouthpiece for many years to come. But along with this, he found time for architecture, a lifelong passion. Of architecture he said in his collection of essays Amate L'Architettura, (In Praise of Achitecture) : "Love architecture, be it ancient or modern. Love it for its fantastic, adventurous and solemn creations; for its inventions; for the abstract, allusive and figurative forms that enchant our spirit and enrapture our thoughts. Love architecture, the stage and support of our lives."
In keeping with this passion, Ponti started designing, 'domuses', houses that looked typically traditional Milanese on the outside, but were innovatively furnished and had flexible spaces. Soon his work as an architect gathered renowned and in the mid-1930's he began to design prominent buildings like the Mathematics Department at Rome University and the headquarters of Montecatini. As discussed in earlier articles on Italian design, form marrying function is one of its major features. Ponti ensured that he followed this precept, becoming one of the pioneering Italian industrial designers and architects of his time to realize the importance of appropriate building materials, and of aesthtics that add to functionality and vice versa.
Gio Ponti's emerging success:
While remaining in his editorial role at Domus till 1941, Ponti undertook a variety of architectural projects. From 1941 to 1947 he left Domus to establish Stile, but soon returned. By this time he had established himself at the forefront of Italian designers, and the scope of his work extended to stage sets and costumes for La Scala in Milan. On the other extreme, he took to designing Murano glass items for his friend, the master glassmaker, Paolo Venini. By 1948, he had already immortalised himself by designing the iconic La Pavoni coffee machine which spearheaded the Italian coffee bar culture post World War II. It was at this time that he undertook a project for the renovation of four Italian liners with Nino Zoncada.
Continuing his interest in collaborative projects, he worked with renowned Italian decorator Piero Fornasetti on the Casino at San Remo. During this project Ponti's naturally exuberant artistic instincts came to the fore and combining his talents with the neo-classical inclinations of Fornasetti, he designed giant playing car motifs for the decoration of the casino. The duo went on do do more such collaborative endeavours.
Gio Ponti's best creations: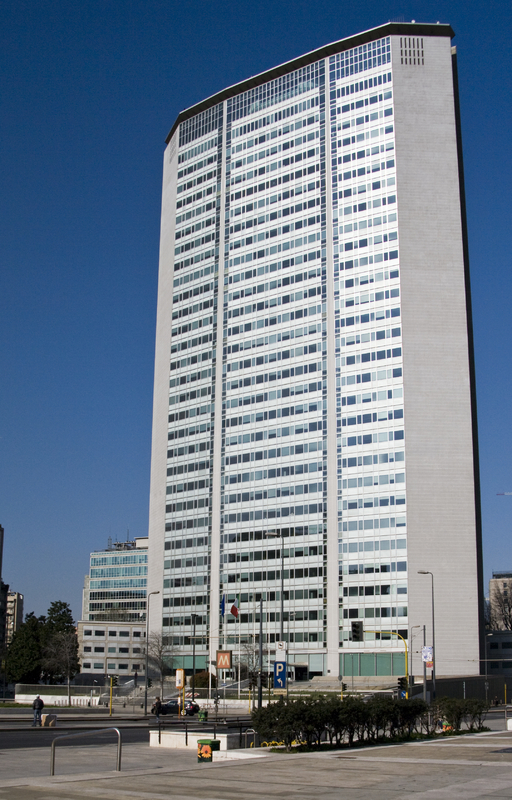 From architecture, Gio Ponti made a linear move towards industrial design, creating the classic 1953 Distex armchair and 1957 Superleggera chair. The simple yet extremely functional and charming designs soon caught the public eye and set off a trend. He continued to design buildings, however, and some of his better-known works are the elegant 1955 Villa Planchart and the 1958 Alitalia offices in New York. Back in Milan, he built the 1956 Pirelli Tower which became an icon of Italy in the last century. The 1964 San Francesco Church, the 1967 San Carlo Chapel in Milan, and the 1972 Denver Art Museum were his other well-known creations.
Gio Ponti's legacy:
Gio Ponti passed away in 1979 in his family home on Via Nezza in Milan having lived a life that can only be called singularly productive and brilliant in terms of pioneering innovation. Ponti remained active till his frail last days, still working long hours and channeling his creativity in myriad ways including writing articles and poetry. Much after his passing, his daughter Lisa Licitra Ponti said of his career:
"Sixty years of work, buildings in thirteen countries, lectures in twenty-four, twenty-five years of teaching, fifty years of editing, articles in every one of the five hundred and sixty issues of his magazines, two thousand five hundred letters dictated, two thousand letters drawn, designs for a hundred and twenty enterprises, one thousand architectural sketches."
An Italian designer par excellence, Gio Ponti emblemised the soul of modern design which blends elements of traditional and contemporary to create objects and spaces that speak of high functionality and pristine good looks.
By Damyanti Ghosh