Denim of various types and styles is one of the focal points for women's spring fashion this season, from classic jeans to overalls to skirts.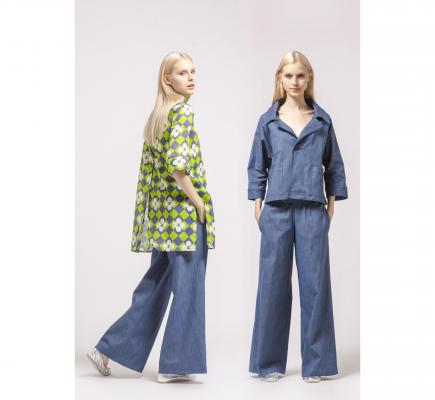 The hallowed fabric has come a long way since its humble beginnings in the 15th century in Nimes, France, where it was being produced at the same time as a fabric called fustian from the town of Chieri, just south of Turin in Italy's Piedmont region. Fustian was a rugged, blue-colored twilled cloth dyed using the woad plant, whose leaves when extracted produce an indigo-colored pigment.
The fabric became popular for work clothes, and was subsequently dubbed "denim" in English, from its origin in French "de Nimes" (from Nimes); while in France it took the moniker "blue jeans" from the French "bleu de Genes" (blue from Genes, the French word for Genoa, the port town south of Chieri on the Ligurian Sea).
Today's denim shows nearly no trace of its origins, not even in contemporary Levi's, which were originally created in 1853 in San Francisco as rough work pants for California gold miners. Contemporary denim, in fact, relies on various treatments to achieve looks such as acid-washed or used, as well as a mix of fibers for improved breathability and flexibility, such as light cotton-linen mixes for warmer seasons.
Antonelli Firenze has chosen this blend, using minimalist lines for pea coats, pants and dresses that seem made entirely of denim, but are actually composed of what it calls "denim-effect linen".
The 2W2M group is offering up a boho-chic look that recalls the hippies of the 1970s, in a loose-fitting style that has been often worn by stars like Kate Moss and Sienna Miller.
Siviglia has come up with a line of special garments that undergo three hours of laboratory processing to make them seem 10 years old.
Denim overalls that can surprisingly transform into maxi skirts are part of a collection from Mes Demoiselles, with a faded effect evoking summer azure tones.
Roy Roger's also offers overalls in a shorts version with a linen-mix denim, created from a pattern found in the company's archives.
by Michelle Ruelle
Source: Ansa