Ennio Capasa & Costume National
Hailing from the heel of Italy's boot – the town of Lecce – Ennio Capasa was raised on fashion. Capasa's parents were proprietors of several upscale boutiques showcasing a glamorous abundance of couture. As a child, the designer despised fashion, but the allure of design lead him to enroll in the Milan Academy of Fine Arts in 1982. As the founder of Costume National, Capasa has embraced his fashion beginnings and today designs clothes that straddle the line between everyday wear and on-the-town elegance.
When asked why he hated fashion as a child, the designer explained that he had believed many of his parent's clientele were both bored and rich and he wanted to avoid the lifestyle that he associated with fashion.
Upon graduating from the Milan art school in 1982, Capasa sought work overseas and found it in Japan working for Yohji Yamamoto where he learned to drape, cut, and sew for roughly three years.
Capasa left Japan with Yamamoto's recommendation that he begin his own label–his talent was apparent early on. However, instead of using his own surname as so many designers do, he took inspiration from an antique book of uniforms and Costume National was born in 1986, a collaborative effort with his brother Carlo.
The two brothers work together on the Costume National collections to the present day. Even at this early stage, Capasa's designs reflected a desire to blur the line between formal and informal attire, because for him modernity is all about mixing the formal and the informal, to invoke a street-smart cred.
Capasa's subsequent designs can ultimately be described as stylishly hip—relaxed yet sporting an innate sexiness. Although Capasa's first collections were for women, he quickly launched a men's line in 1993. The savvy designer met with considerable success in both his men's and women's fashions in the 90's. He is known throughout the world these days with his own boutiques in Rome, Milan, Tokyo, Hong Kong and New York.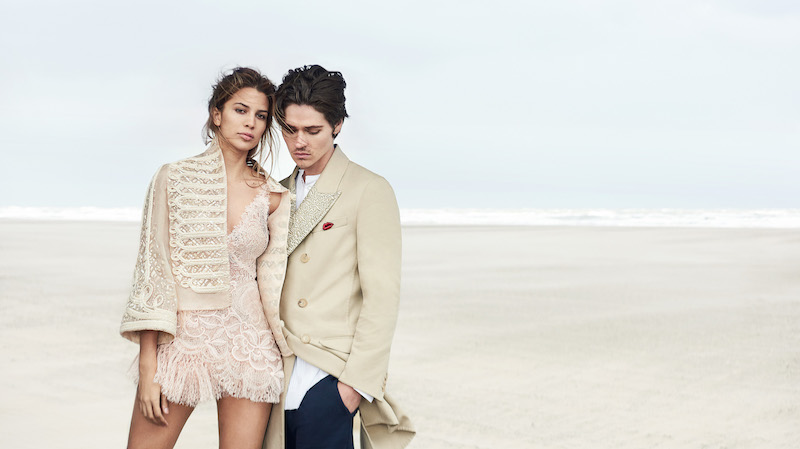 Mick Jagger in Costume National
Generally speaking, Ennio Capasa's clothing (he also designs bags, belts and leather items) tends to focus on the hips, neck, and shoulders. It is a cosmopolitan style interested in urban colors and the play between glossy and matte accents.
His clothing has been described as "second-skin" and close-to-the body without simply being tight. Capasa now owns the main brand of street couture, Costume National, Costume National Homme for men, and the more affordable C'N'C Costume National for a younger clientele.
Clothing that is sensual is this designer's hallmark, music like rock and funk, and cinema of the 60's are his continued inspirations.
Little wonder then that some of the greatest stars of the world of music and cinema like Mick Jagger, Jovanotti, Beyonce', Nicole Kidman, Cameron Diaz, Tom Cruise, Brad Pitt, Jude Law, Scarlet Johansson, Cate Blanchett, Keanu Reeves and Stefania Rocca have chosen Capasa for red carpet appearances or tour costumes.
Ennio Capasa has also launched shoe and cologne lines that have greatly pleased his most receptive audience. Costume National is also available from other upscale and progressive retailers like Barney's of New York. Recent collections have conveyed a subtle safari motif with buttoned pockets and African accents, but 2008 seemed to be an year for black, not as an absence of color, but its affirmation The lines of his work have grown more confident with the passing of the years, and Ennio Capasa has now deservedly taken a spot in the hall of great Italian contemporary designers.
In 2016, Ennio Capasa split from Costume National.
By J. A. Young
Edited and updated by Damyanti