While one often says that a man need not spend a lot to look like a million bucks, the truth is, it helps. Which is why a suit from Brioni costs an arm and a leg: the range begins from $3000 and may go way up. In short, there is nothing that represents the good life, suave charm, poise, and distinctive individuality like a suit from Brioni.
Brioni and Bond: A Lasting Legacy
Ask Bond, James Bond. Brioni had dressed all the Bonds from Goldeneye to Casino Royale. From Savile Row in London, Bond had come all the way to Italy in the last decade to lend his suits a postmodern edge.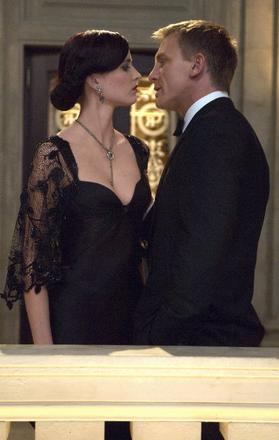 Lindy Hemming, the costume designer for Bond throughout this period, says of the attitude and ethics of the house of Brioni: "They were absolutely open to any sort of idea. They have a lifetime of making clothes for presidents and politicians, and they don't have that thing that they can't change what is going on. Whether it be 13 inside pockets, or one jacket with no vents and another that needs to open down the back".
The Brioni Story: Creative Innovation
Of course, in the world of handcrafted men's suits Savile Row is still the first name that comes to mind, but its influence today is seen in the legacy of those like Nazareno Fonticoli, who helped found the house of Brioni in 1947.
Fonticoli was trained at the Abruzzo school of tailoring, which combines the peerless cutting and stitching techniques borrowed from Savile Row with more relaxed, Mediterranean-inspired silhouettes.
Along with his Roman partner, Gaetano Savini, Fonticoli opened one of the first fashion houses for menswear, and named it after the the Croatian islands of Brijuni (pronounced Brioni), a glamorous golf and polo getaway, haunted by Italian and other European aristocrats in the 1920s and '30s. The two partners recognized a demand for effortless, moneyed elegance in well-heeled men anxious to gloss over the hardships of post-war life, especially the Italians, for whom presenting the bella figura was of prime importance.
The partners set about with a passion for perfection in a world ravaged by a recent war, reinventing classic modes of menswear, which quickly became popular with the rich and the famous even across the Atlantic. In the 1950's, the house of Brioni began to attract clients like Clark Gable, Gary Cooper, John Wayne and Kirk Douglas, to name but a few of the many that flocked the house in search of a unique sense of style,. The big-framed American men gained a certain savvy European charm, a degree of sophistication matched only by Savile Row from Brioni's slim and discreet "continental" silhouette. A trim silhouette meant that Brioni could experiment daringly in terms of fabrics and colors, using silks and brocades in menswear for the first time. This led to the gorgeous feel and absolute luxury that have remained the hallmarks of a contemporary Brioni suit.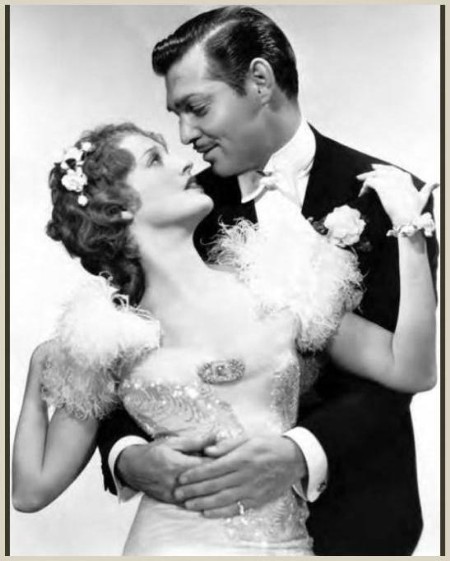 In a fashion scene that had so far only witnessed women's shows, it was Brioni that introduced men to the ramp at a show held in 1952 in Palazzo Pitti. This was followed up with one in New York two years later, as well as in other cities of America. This first complete menswear collection generated quite a buzz, as did the cuts and silhouettes that the house featured. Italian fashion underwent a renaissance of sorts in that decade, and Brioni was at the forefront of all the action, soon opening outlets in all the major capitals of the world.
Brioni's specialty is the painstaking care taken by the house to perfect each detail : buttonholes, lapels, and pockets are just so, and not a millimeter removed from how and where they should be. They are one of the few menswear houses that truly do a bespoke (a term derived from English tailoring, where a length of fabric was kept aside as spoken for by the customer), a garment totally customized not only to an individual's bodily proportions and taste, but even to their professions, and discreet, often unspoken needs.
The Brioni Bespoke: Luxury and Uniqueness
Bespoke is totally different from made-to-measure, as the ex-chairman of Brioni, Umberto Angeloni once explained: "Bespoke is where the suit is made from your measurements exclusively, from scratch. We still do this, in Milan and Rome. Everyone now says they do bespoke, but what they mean is made-to-measure. That is where an existing suit design is adapted to your shape." Dozens of additional features like secret pockets, special flower buttonholes along with impeccable, lifelong service distinguish this house from others in the field.
Most importantly, a significant amount of skilled hand work is involved, and if so required, a suit can be totally made by hand, something that was the rule with Brioni before the 1960's. The people who craft a Brioni are trained at its own schools, a tailor is coached for four years before being allowed to handle actual fabric for clients, and it would take two years of honing before a seamstress is allowed to punch a buttonhole.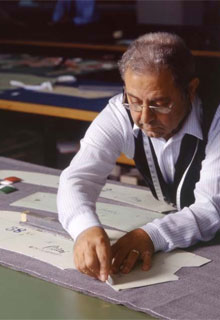 Brioni has helped define and today represents what one thinks of as "typically Italian". Its suits somehow transform you. They subtly broaden your shoulders, tuck in your waist, and make you stand tall, molding your body according to the jacket – a distinctive attribute of Italian tailoring.
Brioni offers more than 5,000 exquisite fabrics to choose from, including but not limited to the finest super-spun wools, the best of silks and silk-blends, cashmere, and baby alpaca. The linings are as good as the surface fabric: cashmere and silk are regularly used. For those who travel long and often, lightweight, more resistant and wrinkle-free versions are available with special stretch fibers, of which a great example is Escorial, the first natural fiber to demonstrate stretch and wrinkle-resistant properties. Brioni has a patent for Escorial.
Brioni Heritage and Tradition
Brioni's success lies not only in its superlative deftness in cutting, fitting and stitching or in its service, but also in the brilliance of its managerial strategy down the years. From the groundbreaking introduction and use of semi-automation in the 60's without sacrificing quality in order to cope with rising demands, providing the same luxurious fabrics in its ready-to-wear as in its exclusive bespoke line, and its respect for its heritage, which means that some of the age-old secret techniques remain unchanged, Brioni has ensured a lasting legacy.
The house is not ubiquitous. It lends its name with caution, and maintains a strictly in-house, hands-on, hushed production policy. Even when it was Bond's official designer, it did not do much to cash in on the advertising opportunity, other than crafting a series of exclusive £3,000 Bond-themed tuxedoes that had "James Bond" stitched into their silver linings. These were available at select stores just before the release of Casino Royale.
Brioni has an exclusive clientele of approximately 25,000 privileged customers, who swear by its perfectionism, intuitive grasp of customer needs, and unobtrusive, unflaggingly patient service.
It is only in 2001 that the house made a foray into women's clothing, lending it the same structured, tailored look that a lady accompanying a Brioni man is likely to wear. Traditions are the cornerstones of Brioni, and even as it explores womenswear, it does so keeping in mind its own long heritage of impeccable quality.
Brioni is all about a sense of style, a style that is ageless and will remain a faithful and indispensable part of your wardrobe for years and years.
It is about being unhurried: in this fast-paced world, being deliberate can be a luxury, a consummation of hidden efforts.
The house does not follow the frantic passage of trends supported by other brands, because in the two months, several fittings and the minimum of 185 steps it takes to make a suit, the age of a vogue in the rest of the fashion world is almost over.
A typical Brioni handmade suit would go through 10 hours of sewing by hand, 18 hours of fine craftsmanship for buttons and so on and 42 stages of ironing. This is precisely why Brioni is never out of fashion, its very perfection sets it apart, beyond the reach even of other reputable brands. The likes of Kofi Annan, Vladimir Putin, Donald Trump and Richard Gere would testify to this.
Brioni is summed up perhaps the best in the words of one of its present master-tailors, Mr. Savarese: "Brioni, the quintessential name in luxurious hand crafted menswear, has for over fifty years brought its singular Roman sophistication and sartorial elegance to the most discerning clientele. Some of the world's most illustrious politicians and businessmen choose Brioni as their 'power suit' to showcase their elegance and individuality."
By Damyanti Ghosh