Dress, check! Flowers, check! Church and hall, check! Makeup…?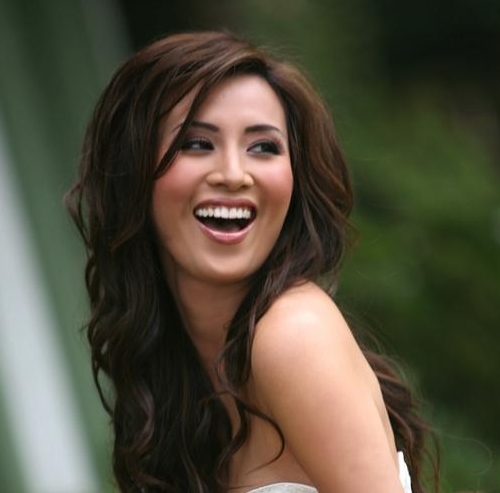 In most places of the world, getting married is a special event, but in Italy weddings are one of the most joyful of all social experiences. Considering the amount of time and planning that goes into preparing for a wedding everyone involved always hopes and prays that everything goes smoothly.
From food to decorations,  every aspect of a wedding is thought through and not even the littlest detail goes unnoticed. It seems only natural that the same amount of planning and forethought would also go into the bride's makeup for the day. After all, the bride – and her gown!–  is the focal point of the event, the one person everyone will be watching –especially the groom!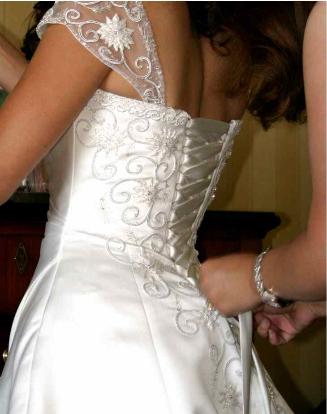 On average a bride-to-be will have two to three makeup trials with different makeup artists before choosing the right person to be responsible for her face on her special day. During these trials, the bride will pick her favorite look and the artist she enjoyed best to be her beauty advisor on her wedding day. The trial consists of the bride sitting back, relaxing, and enjoying the experience of working with a professional makeup artist to determine a look that best suits her face shape, bone structure and skin tone.
In many cases, not only does the bride get her makeup professionally applied, but her bridesmaids and mother (and the little girls of the wedding party, if there are any!) tag along to enjoy the day with her. In case you are curious, it is very seldom that the groom or groomsmen have their faces powdered, although it does happen at times!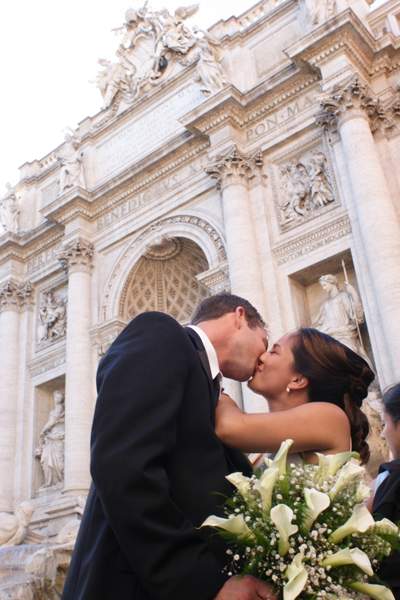 The most common makeup look that brides aim for on their wedding day is one of natural beauty. This look is all about enhancing the bride's natural attributes without introducing too many bright colors or textures. A natural look often consists of using mineral makeup and colors that match the bride's natural skin tone. Think soft pinks and taupes even ivory or beige.
Of course, there are times where a bride prefers a more "evening" or dramatic look. Darker shadows, smokey eyes, and perhaps even red lips. The makeup look chosen not only depends on the bride, but the type of wedding she is having and the time of day.
Of course, the bride's  has always the last word, but from the experience gained from many years working in the bridal industry, I can recommend staying away from dark eyes if photos are going to be taken outdoors during the day. What happens is that the sun shines down and reflects off the dark eye makeup creating the illusion of two dark holes, which will be very noticeable in your photos.
If you have your heart set on dramatic, smokey eyes, another option to consider is going for a natural look for the ceremony and photographs and then tweaking it with some dramatic shadow towards the evening and the reception. This way ensures you get great photos and also two different, beautiful makeup looks to wow your guests–and your groom–with. All you have to do is ask your makeup artist if they would be willing to come back to change the makeup application later on in the day.
A great dress, perfect hair, and flawless makeup – not to mention a wonderful husband-to-be – how can your wedding day go wrong?
I wish you all the best on your wedding day and in choosing the right makeup look for you, as well as a lifetime of happiness with your groom.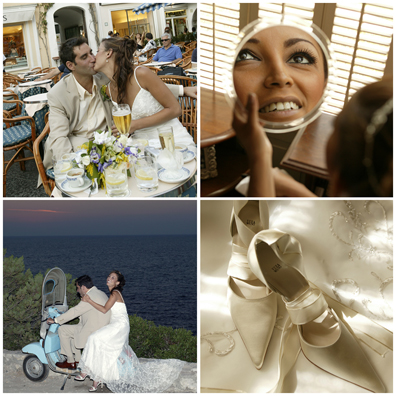 Best,
Tonia Coletti
Professional Make Up Artist